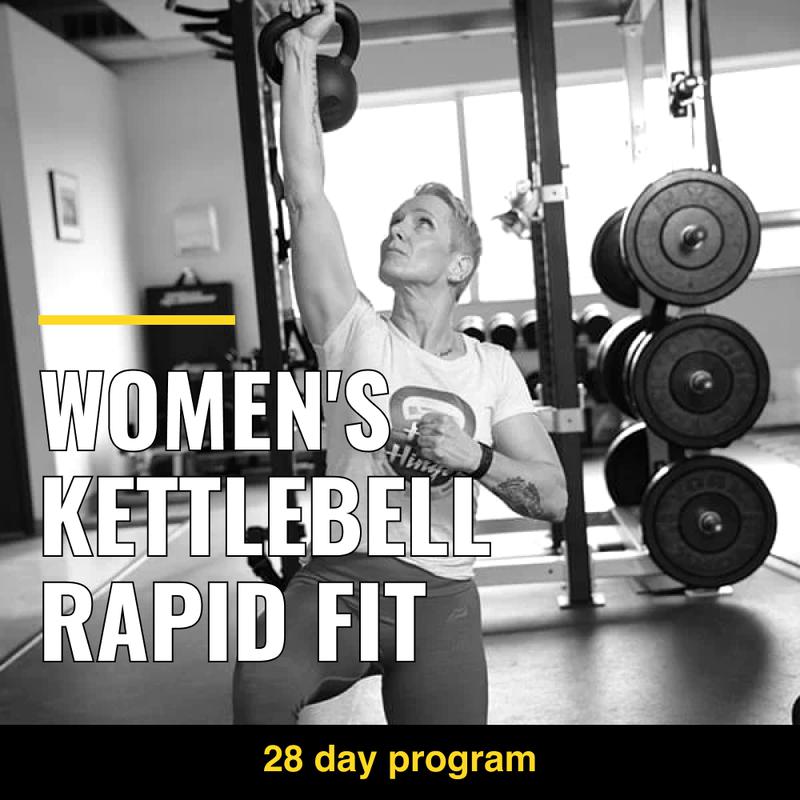 coachkack
and 66 other people bought it
Women's Kettlebell Rapid Fit 28 Day Program
Free shipping on all US orders
Description
Attention Women: If You Want To Lose Weight, Burn Unwanted Fat, Build Strength and Get Into Amazing Shape Without Spending Long Hours In The Gym Or Spending Time Doing Endless Cardio!
Discover The Power Of Using Single Kettlebell Metabolic Workouts That Will Help You Get Into The Best Shape Of Your Life in Just 4 Weeks.
Join The Women's Kettlebell RAPID FIT 28 Day Program for just $29.99
This program will be delivered via email. Be sure to check your spam folder if you can't find it 20 minutes after purchase!!!
(Onetime payment, lifetime access) Ironclad 30-Day 100% Money Back Guarantee
Hey Sister! It's Angela Roberts Here!
If you are frustrated with all the kettlebell workout programs out there that promises you the body you could only dream of...
… yet, you find yourself burning money with programs that don't work, doesn't stick with you, hard to follow, not designed for women and worse, you end up going back to square one.
Bear with me, because today, it's all going to change.
But first.
The Little-Known Truth About Most Kettlebell Fitness Programs Is...
Reason #1: Wrong Exercise for Female Fitness Goals
If you are a woman and you want to lose weight, burn unwanted fat, build strength and get a lean sexy body then you have to stop doing all the traditional kettlebell exercises over and over and over again expecting your body to change…
Don't get me wrong, you need to include this exercises in your programming but there is a strategic way and additional variations that will accelerate results for woman using kettlebell training.
Reason #2: It's Hard for You To Follow The Kettlebell Program
Listen when you are just starting a new kettlebell fitness program, don't opt for the same programs you see bulky men doing or jumping directly into super advanced level training. Your body is not ready for next-level intensity yet. Yet, many women think that they should opt for the traditional kettlebell workouts in order quicker results. When you can't do the suggested kettlebell workout — you'll get injured, or you'll quit altogether and going back to square one.
Your program needs to be designed for women to accelerate results using workouts are programmed to help you build lean muscle and strength while burning fat, while you force your body into getting results quickly and have fun while you do it.
Reason #3: No Professional Guidance
This happens when you just randomly get a workout program you find online. Or you follow the kettlebell workout programs on one of those fitness app that JUST GIVE YOU "demo videos of the exercises". You're not sure if you are getting a high-quality program that can help you get the results you desire.
As you know, kettlebell training is no joke and you need to know how to perform the proper techniques and movements and even if you are intermediate or an advanced kettlebell enthusiast, getting follow along workout videos, with a Advanced Certified Kettlebell Coach, who will train beside you, coach you and motivate you to make sure you reach your fitness goals faster than you could ever think of.
THIS IS WHY YOU'LL LOVE WHAT I HAVE FOR YOU TODAY...
Because I've Created The Perfect Kettlebell Program Designed for Women Using Metabolic Training, Combo Movements, and The Power of Russian Hardstyle Kettlebell Training Proven To Help You Burn Fat, Build a Strong, Lean, Athletic Body and Get Fit In The Shortest Amount Of Time Possible
…while only doing a short 20-35 minute metabolic kettlebell workouts that you can do at home with only using just one Kettlebell
My Metabolic Single Kettlebell Combo Workouts Do-It-All For Women…
In Just 4 Weeks You Are Guaranteed To...
• Crank your metabolism and burn body fats faster
• Replace the unwanted jiggly body fat and "mom-bod" with an attractive female physique
• Build strong, sexy and powerful glutes
• Get rid of stubborn belly pouch while improving your core strength
• Have shorter workouts but burn a mountain of calories
• Erase joint pain and make your joints stronger, more mobile and more flexible…
• Literally reverse visible signs of aging and aches and pains that make you feel old in less than a month…
• Balance your hormonal health
• Build lean & athletic muscle
• Increase overall energy and improve general well-being
• Get in the best shape of your life and be more confident with your body
• You'll begin feeling stronger, healthier, and lose weight within just a couple of weeks of training…
And I've combined our BEST kettlebell workouts into a simple program that'll get your rapidly FIT and transform your body in just 4 weeks
Let me introduce to you...
The Women's Kettlebell RAPID FIT 28 Day Transformation Program
When you train with Kettlebells, you can get BIG results without running your body through the ringer or starving yourself.
When most women consider a fitness program, they spend a bunch of money getting equipment, buy a lot of special "diet food" and then pretty much go on a rampage working out daily and almost starving themselves.
It's different when you train with me and my Kettlebell RAPID FIT program which uses metabolic training, combo movements and the most powerful hard style kettlebell exercises guaranteed to get you results.
You can literally transform your body and still live a normal life.
You don't have to workout every single day, and you don't have to starve yourself.
In fact, my Women's Kettlebell RAPID FIT program is the opposite of almost every kettlebell workout or diet program you will ever see and that's why it will get you results.
INSANITY IS DOING THE SAME THING OVER AND OVER AGAIN EXPECTING DIFFERENT RESULTS
You will get challenging intermediate to advanced kettlebell workouts
That are results driven, fun, and work fast.
You can train from the comfort of your own home.
You'll get FULL body results that do more than make you look good… you'll get stronger, improve energy, feel better, have more confidence and actually be healthier!
You will get an easy-to-follow FULL nutrition program designed for women to burn fat while supporting your hormones and lean muscle growth.
Become comfortable using the most powerful body-transformation tool on the planet — the KETTLEBELL!
Each workout inside the Women's Kettlebell RAPID FIT 28 Day Program, is one of my patented metabolic combo circuit workouts that never fail — and now we'll do them with together with kettlebells!
These workouts work like gangbusters for women who want to shed stubborn body fat, feel confident when the clothes come off, and be as flexible and fit as ever.
To Get the Best Results with Kettlebells, You Need To Learn From A Certified Kettlebell Coach and Expert…
Hey again, my name is Angela Roberts, and I am an Certified Advanced Kettlebell Coach, former undefeated professional muay thai fighter and past bodybuilder. I'm 53 years old and in the best shape of my life because of kettlebell training and metabolic workouts.
This has been a game changer for me in my life especially in my peri-menopause stage I am still leaner, stronger and fitter than ever before, plus I feel confident, my husband things I'm sexy and I AM ONE BADASS BITCH!!!!
Over the years, I've perfected my metabolic kettlebell training also known as #ANgWOD's within our Kettlebell Spartan Academy Membership Program.
All the members LOVE my workouts and get amazing results which force me to continue creating more programming, but it's time for me to release these powerful workouts to women around the world…to empower women's health.
I want you to be a woman that is fit, fabulous, sexy, strong and most importantly HEALTHY, while you stay injury free using my follow along kettlebell workouts videos.
That's right, I will be right beside you in every workout, coaching, training, and motivating you along the way.
I know exactly how to get the best results as quickly as possible, and I can show you how to get the results you want…
Whether you're looking to lose weight, get stronger, or improve your overall health, I can show you how.
Inside The Women's Kettlebell RAPID FIT 28 Day Transformation Program You'll Get…
Component #1: Women's Kettlebell RAPID FIT Metabolic Follow Along Workout Videos
You will use 4 main kettlebell workouts over the 28 days so you can track and gage your results!
I've recorded every workout that uses my metabolic combo Kettlebell workouts with high-definition video quality…
Just hit "play" and follow along with me as I train with you while coaching you through each exercise and motivating you…
And you'll shred unwanted fat… build lean, attractive muscle… get stronger… GET YOU FIT!
Plus you can use these workouts from the comfort of your own living room, gym or wherever else you want to follow these workouts…
So, I guarantee you'll have fun and get into amazing shape while you're at it.
Component #2: The Women's Kettlebell RAPID FIT Program Manual
Inside the Women's Kettlebell RAPID FIT 28 Day Week Program manual, I will show you everything you need to have success with the program…
And a complete workout schedule so you know when to follow each routine for the best results.
Some of the #ANGWOD kettlebell workouts you'll get inside are my program are Single Kettlebell "Off The Chain" Workout… the Kettlebell Build AMRAP EMOM, KB Metabolic Ripped … my favorite Single Kettlebell AngWOD Workout
Component #3: Kettlebell RAPID FIT Demonstration Videos
I know these kettlebell exercises are going to be new to a lot of women and that's why I put together kettlebell demonstration videos…
Where you will access short videos that give you a demo and of every exercise inside the Kettlebell RAPID FIT 28 Day Transformation Program
You'll love how easy it is to pick-up on these movements and unlock the best results from the challenge.
BUT STILL USE THE FOLLOW ALONG WORKOUTS FOR THE BEST RESULTS
Component #4: Done-For-You Kettlebell Fat Loss Nutrition Plan for Women
Nutrition is KEY for seeing the fastest possible results over the next 28-days. BUT…
And I are a firm believer that eating "right" doesn't have to be boring or bland…
That's why I am providing our Kettlebell Spartan Done-For-You Nutrition Plan for women
Our nutrition system for women is designed as a LIFESTLE and will help you to burn fat, lose weight, tone-up those saggy "problem areas" and get so fit you feel comfortable walking around in skin-tight yoga pants if you want.
Just follow your nutrition plan for the next 28 days and you'll get faster results than you ever could without it!
Who Should Get My Women's Kettlebell RAPID FIT 28 Day Program?
If you answer YES to any of the below, you need this…
You are a woman ready to step up and put 100% towards this program
You have intermediate or advanced kettlebell training
You've tried diets and fitness plans in the past and struggled to stay focused and plugged-in until you got the results you were looking for
You value getting in better health and you understand why health is more important than just "looking good" in the mirror
You want to make a positive change in your strength and overall health and wellbeing
You currently want to get stronger for a specific reason… such as being a fitter mother or grandmother, or a sexy wife, or you want to improve in a specific sport, be in better shape to do daily tasks OR JUST BE THE FITTEST YOU'VE EVER BEEN FOR YOURSELF BECAUSE YOU DESERVE IT!
You've got some weight you could lose, and you want to do it the right way…and you also want to make sure the weight stays off for good
You are short on time, short on money, or both, and looking for a fun fitness program that works that also doesn't require a huge time or money investment
SO LET'S RECAP WHAT YOU GET WITH THE Women's Kettlebell RAPID FIT 28 Day Program
Women's Kettlebell Rapid Fit Follow Along Workout Videos = $149 value
Women's Kettlebell Rapid Fit Demo Workout Videos = $49 value
Women's Kettlebell Rapid Fit Training Guide = $49 value
Women's Kettlebell Rapid Fit Success Calendar which lays out your entire 28-Day schedule = $9 value
Kettlebell Fat Loss Simple & Easy Nutrition System for Women (DONE FOR YOU) = $149 value
Follow Along Pre-Workout Warm Up and Post Workout ROM Routines = $49 value
Access on Protected Website and Funk Fitness Shred APP and Apple TV = $149 value
BONUS: Hip and Back Mobility Follow Along Video Routines during Recovery Days = $99 value
BONUS: Kettlebell Abs Routines (Follow Along Videos) = $69 value
BONUS:FREE ACCESS: Kettlebell Spartan Academy Private Facebook Support Community = $99 value
BONUS:LIVE Monthly Coaching with your coach Angela = $399 value
Frequently Asked Questions
What's this program all about?
This is a kettlebell program designed by a woman for women to help burn fat, improve strength and get SUPER FIT in just 28 days using my proven and powerful kettlebell combo metabolic workouts.
This is not a fad diet or another "here today, gone tomorrow" kettlebell workout program. When you start training with me, you'll get LASTING results quickly, and it's a lot of fun.
What If I'm not in good shape now… can I do this?
YES YES YES!! You bet. This program is designed to help you get into shape as long as you have intermediate to advanced kettlebell training to improve your strength, fitness, and overall health.
Do I need any equipment?
Yes. All you need is a single kettlebell. We'll use this tool throughout the program.
If you don't have one, we have partnered with Kettlebell Kings and I suggest this AMAZING PACKAGE specifically for WOMEN to help you get started so
This won't hurt my joints, will it?
No! In fact, studies show training with kettlebells is one of the best ways to strengthen your joints and even reverse back pain.
I guarantee if you follow this plan for the next 28-days, your joints and muscles will feel so much better than they do right now.
What if I've never used a kettlebell before?
This program will NOT be for you. BUT Don't worry we have a Kettlebell Workshop and Kettlebell for Beginners program coming soon.
This program is for women with intermediate and advanced kettlebell training.
Do I have to follow a boring diet?
No. This isn't about starving yourself. In fact, you'll surprised how quickly the weight falls off of you even though you're still eating some incredibly delicious foods. Our Kettlebell Fat Loss Nutrition System for women and. Kettlebell training is so powerful, you don't have to eat like a chipmunk… Inside, you'll a full done for you nutrition plan that is simple to follow and teach you what foods to eat in order to boost your metabolism, balance your hormones and help you get FIT that will help you get results even faster.
How is this program delivered?
This is a digital product…You get instant access to a website and fitness app which will house all the PDFs, workout videos and everything you need including the bonuses which are all part of the program. Once you purchase you will be taken to a confirmation page where you will be asked for your email and then you will register by creating your username and password to access the protected website. There's no waiting… You can get started on the path to improving your fitness RIGHT NOW.
How much?
Although this normally sells for $99, I've slashed the price and I'm letting this go at a BIG discount when you get this today for just $29 USD!
How long before I see results?
If you follow the program to the NOTE, you can begin noticing an increase in strength, flexibility and within the first 2 weeks. After week 3 you will see fat and weight loss and over the span of just a few short weeks, you will look a lot better and feel amazing. This isn't a crash diet or something you do for just a few days or weeks, kettlebell training is part of a healthy way of living, and I'll show you EXACTLY how it's done.
What if the program doesn't work for me?
If you follow the program as I've laid it out, that's HIGHLY unlikely. But if for any reason you don't love the program or get the results you want, just send me an email at customerservice@over40shred.com to let me know, and you'll get a full refund.
Guaranteed safe and secure checkout via
Likes:
Time crunch friendly
Home Workout
"This is perfect for any individual looking to workout on a time crunch at home"
Recovery Weel
"This is absolutely perfect for a recovery week"
New exercises
"My trainer showed me this and I have been feeling better ever since"
Likes:
Helps with imbalances
Helps imbalances
"My trainer uses this on recovery weeks from weightlifting and it works wonders"
Improvements:
Explain the program format more… I didn't see the separate abs tab at first
Great program
This is a good program for beginners and up! I connect with the motivation, I love the passion of the instructor she cracks me up!!! And keeps me going! She's saying what I'm thinking.
"Get your life together!!!!"