coachadrianso
and 46 other people bought it
Competition Kettlebell - 33mm Handle
Free shipping over US$150 within US & Canada
4 KG| 9 LB
6 KG| 13 LB
8 KG| 18 LB
10 KG| 22 LB
12 KG| 26 LB
14 KG| 31 LB
16 KG| 35 LB
18 KG| 40 LB
20 KG| 44 LB
22 KG| 48.5 LB
24 KG| 53LB
26 KG| 57 LB
28 KG| 62 LB
30 KG| 66 LB
32 KG| 70 LB
Guaranteed safe and secure checkout via
ABOUT
NO WELDING
This unfilled competition kettlebell is made with precision single casting technology, which means it is cast as one solid piece instead of welded parts. Traditional kettlebells are made by welding the handles, bodies, or bottom, causing kettlebells to break easily.
BOTTOM APERTURE
The bell's aperture can be found on the base, as it is constructed from a single steel cast without fillers, just steel casting. This creates better balance during lifts, as normal competition bells with welded bottoms and fillers can shift and rattle around with movement, making it harder to complete your workout.
SUPERIOR WINDOW
The bell's smaller window size and unique curvature compared to other models allows for added comfort when lifting overhead and in the rack position during lifts. Increased comfort and easier hand insertion lead to better workouts and new personal records in strength, endurace, and competitions.
BUILT FOR SAFETY
Our competition kettlebells are specifically top-heavy molded with a thicker handle base and a greater percentage of load situated at the top of the bell's body. This ensures that the kettlebell does not pull the user's arm to the outside when lifted overhead or in the rack position (resting at waist level), contributing to injury prevention and energy conservation.
STANDARD HANDLE SIZE
33mm diameter is the international standard for bell handles and provides a large surface area for gripping. The pitted, untreated, and unpolished handle allows for better grip out of the box, with our without chalk.
MEETS INTERNATIONAL STANDARDS
This bell meets the standards for Girevoy Sport Union (GSU), IKFF, and International Union of Kettlebell Lifting (IUKL).
IMPROVED BALANCE WITH NO FILLERS OR RATTLE
With our advanced casting process and no fillers shifting around inside you achieve better balance during repetitions. Each weight is made using a specific, individual mold to precisely cast each bell to its correct weight. Traditional competition kettlebells are made with one mold and filled with fillers like saw dust and ball bearings to achieve the desired weight, leading to imprecision in weight. Fillers loosen over time and rattle around inside of the bell, disrupting balance and making noise. As our kettlebells have no fillers, there is no rattle.

why kettlebell kings?
ACCURATE WEIGHT
We guarantee the accuracy to the weight you purchase within 0.3 kilograms or we will replace the bell at no cost.
GRAVITY CAST
Our bells are gravity cast to specific weights. Gravity casts create better surface finishes and have better dimensional accuracy compared to other types of molds. Steel is used for durable and long lasting construction.
NO TOXIC FILLERS OR PAINTS
Our bells are made without fillers and painted with high-quality, non-toxic paint.
LIFETIME WARRANTY
No one else offers lifetime warranties on their cast iron kettlebells. We guarantee the structural integrity of the kettlebell for your lifetime.
FREE SHIPPING
We offer free shipping for orders of $150 or more and ship for only $10 for orders below $150. Kettlebells normally ship for almost as much as they cost, but not with us!
YOUR #1 COMPETITION KETTLEBELL
The Kettlebell Kings difference
SINGLE CAST
Our Competition kettlebells are all made from a single piece of cast iron. Most kettlebells have the handles welded on which makes them break more easily. Casting from a single piece of metal creates more durable kettlebells.
STAMPED WITH WEIGHT
Exact weight is stamped on kettlebells in kilograms or pounds for easy identification.
VIBRANT COLORS
Choose between a wide range of colors to customize your kettlebell and make it your own.
GREAT FEEL
Kettlebell Kings feel great in your hands, offering you a secure and controlled range of workout movements thanks to a perfect grip.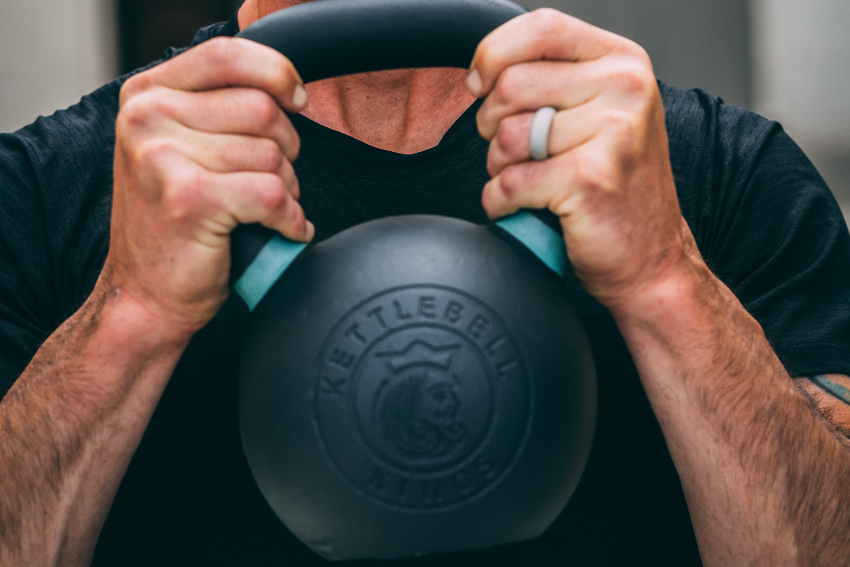 KETTLEBELL EXPERTS AT YOUR SERVICE.
Trusted by fitness professionals, influencers, gym owners, and kettlebell enthusiasts alike, Kettlebell Kings' products are one of a kind. Built to last, made to feel great in your hands, and always functional. We support your fitness journey through high-quality yet affordable fitness products.
I love this bell-it's so fun
I love this 8 kg 33 mm competition kettlebell, it's so much fun. I use it a lot for various complexes and I think it's a great bell.
Likes:
Fast and detailed company replies on questions, fast shipping, and always great kettlebells!
Competition Kettlebell - 33mm Handle
16KG powder coat
Absolutely the best bells to buy.
Thanks all.