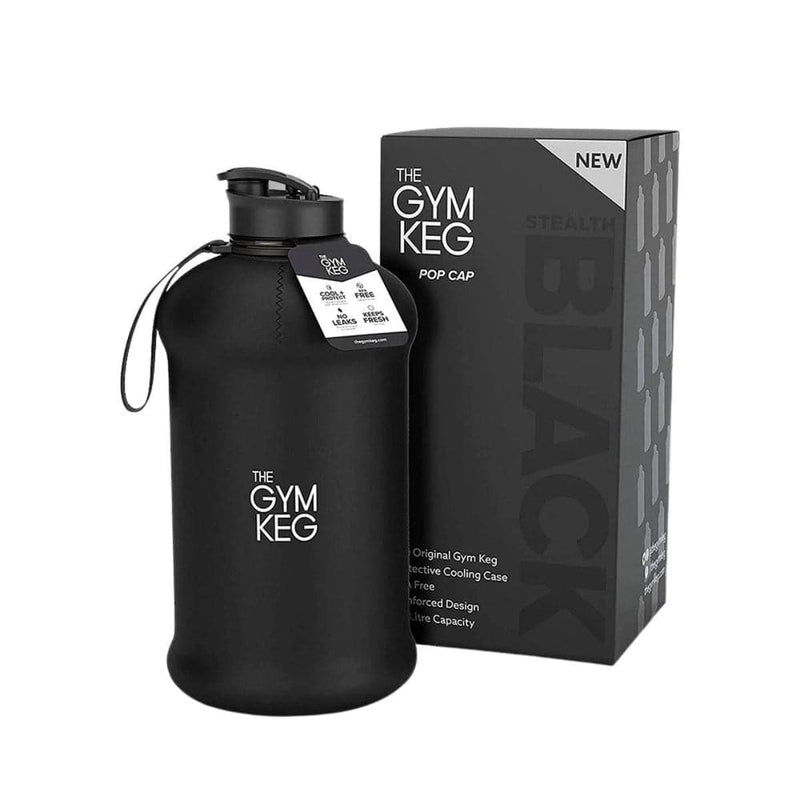 coachkack
and 8 other people bought it
The Sports Water Bottle 2.2 L Insulated | Half Gallon | Carry Handle | Big Water Jug
Free shipping on all US orders
Variant:

Stealth Black 2.2 Litres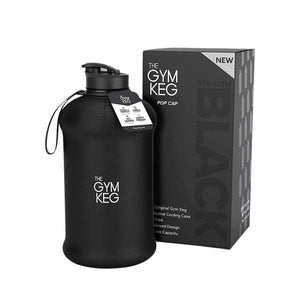 Stealth Black 2.2 Litres
Chrome Reflex 2.2L
Description
Brand: Gym Keg
Features:
Large Water Capacity Unlike small shaker bottles and other accessories, each of our plastic drink bottles holds a huge 2.2 litres of water, more than standard bottled water, supporting a healthy life and all-day hydration for optimum fitness.
Insulating Sleeve For Fortified Durability Our unique gym water bottle for men and women is crafted with premium plastic and built with 40 more plastic than standard plastic water bottles. Combined with our neoprene sleeve, The Gym Keg is able to function as a water cooler. Whether you are indoors or outdoors, running or doing a workout, The Gym Keg is the perfect partner for you.
Multiple Exclusive Designs Our half gallon water bottle comes in lots of different designs for men, women and unisex. Check out our super popular pink, black, grey, and other pattern designs. Our built-in carry handle and leakproof pop-cap makes it easier to take your half gallon water bottle with you to work, the gym, to outdoor sports, or hiking.
Ecofriendly & Health Conscious Every gym bottle is crafted with lightweight, BPA-free plastic that wont influence water taste or impact your health. With and over 2 liter water bottle your body can stay hydrated all day every day.
Reliable Guarantee The Gym Keg is made with superior reliability and craftmanship for true quality assurance whether you have an issue with your lid or flask, just let us know and we will fix it for you as part of our 12 month guarantee.
Guaranteed safe and secure checkout via
Perfect size
Great product, exactly what I needed
Worth every penny
This us the third bottle I have bought from this company as the bottles are robust and don't leak even after continuous use
Gym Keg
Great water bottle for the gym or work. Handle is convenient. No leaks or issues so far. Its not a fancy one that holds ice for days, but I k ew that when I bought it. It does the job. I purchased for the gym and it works fine.
Great bottle and excellent customer service
I have purchased two of these bottles, both of which have served me well for daily use. Unfortunately with one of the bottles one of the two nubs on the lid that the flip cap slots into broke off, rendering it unusable. I contacted The Gym Keg to ask if it was possible to obtain a replacement lid. They asked me for a photo of the damaged lid and, once sent, they promptly sent me a whole new bottle free of charge! Thank you Gym Keg for such fantastic customer service! Now I will have three bottles!
Does the job »
Originally bought this for the gym but I take it with me to work. Doesnt leak. Stays really cold. I '– it!