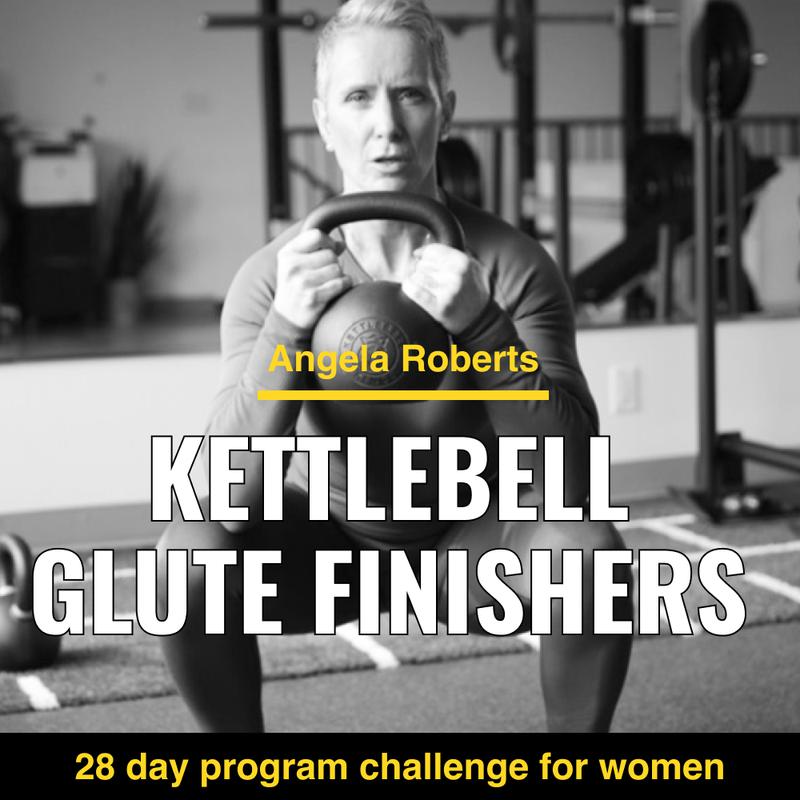 nickson
and 64 other people bought it
Kettlebell Glute Finishers
Free shipping on all US orders
DESCRIPTION
Kettlebell Glutes is scientifically designed to combine to bring the best kettlebell glute exercises, bodyweight booty movements and the metabolic protocol to target your glutes like NEVER BEFORE!
The finishers are follow along workout videos where I, Angela Roberts, Advanced Kettlebell Coach, will coach and perform the kettlebell finisher circuit with you and I will also take you through some body weight only circuits as well. These circuits are created to keep constant engagement to your glute muscles in ways that you have never before.
The untraditional kettlebell glute exercises will help to develop glute muscles that are not usually activated. No part of your glutes will be untouched, you will be sore which means you will get results SUPER FAST, while decreasing nagging injuries, generally caused by WEAK GLUTES! Try this 10-minute Kettlebell Glute finishers and I promise you will see and feel results like ever before.
In 28 days...
Get rid of jiggly fat in your glutes
Strengthen and shape your legs while burning fat
Firm up and sculpt your saggy butt
Have more muscle definition
Feel better in your jeans
Improve power, strength and athletic performance
Activate your glutes, have better posture and balance
Less aches and pains in your joints
Decrease knee and back pain
Gain more confidence
Feel amazing, feel fantastic and get more complements
What You Get With Kettlebell Glutes Finisher Program
Kettlebell Glutes Finisher Follow Along Workout Videos (real-time videos)
Kettlebell Glutes Finisher Demo Workout Videos
Kettlebell Glutes Finisher Training Guide
Kettlebell Glutes Finisher Success Calendar which lays out your entire 28-Day schedule
Access on Protected Website and Funk Fitness Shred APP and Apple TV
BONUS: FREE ACCESS: Kettlebell Spartan Academy Private Facebook Support Community
BONUS: LIVE Monthly Zoom Coaching with your coach Angela Roberts
Guaranteed safe and secure checkout via
Likes:
Time crunch friendly
Home Workout
"This is perfect for any individual looking to workout on a time crunch at home"
Recovery Weel
"This is absolutely perfect for a recovery week"
New exercises
"My trainer showed me this and I have been feeling better ever since"
Likes:
Helps with imbalances
Helps imbalances
"My trainer uses this on recovery weeks from weightlifting and it works wonders"
Improvements:
Explain the program format more… I didn't see the separate abs tab at first
Great program
This is a good program for beginners and up! I connect with the motivation, I love the passion of the instructor she cracks me up!!! And keeps me going! She's saying what I'm thinking.
"Get your life together!!!!"