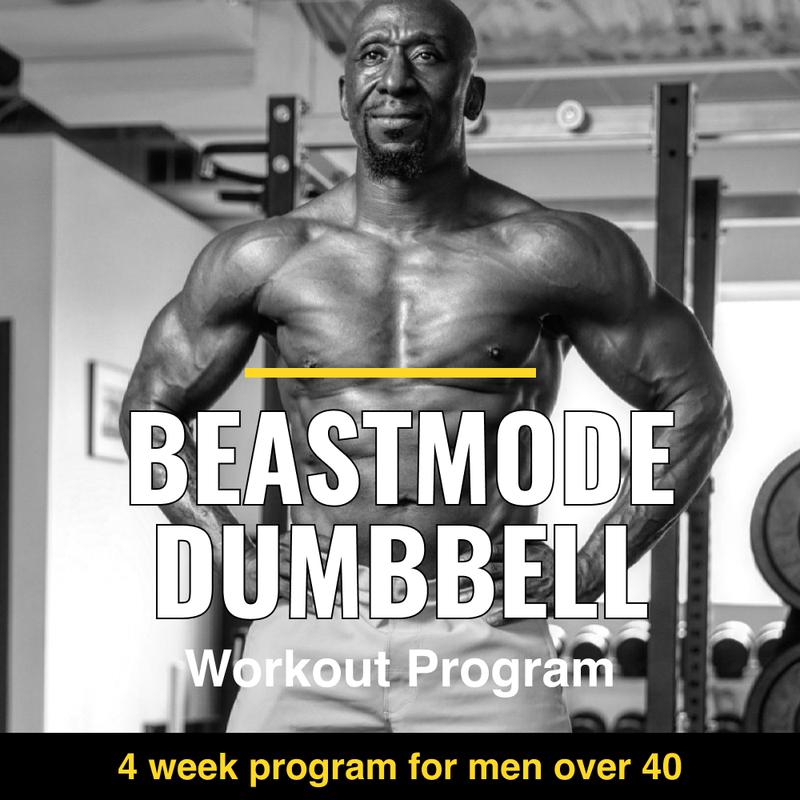 nicky
and 88 other people bought it
28 Day Beastmode Dumbbell Program
Free shipping on all US orders
DESCRIPTION
This program is for men over 40 who want to look like a fitness model and feel like an athlete using a series of dumbbell movements which can be performed from the comfort of your own home. In this 28 day course by Funk Roberts, Master Metabolic Trainer and Men's Over 40 Transformation Specialist, you'll build a strong physique you're proud to show off and move like you could in your glory days.
Inside the 4-Week Beastmode Training Guide you'll get a clear explanation of the metabolic dumbbell training and how this program will help you build muscle and burn fat. Every workout in the program is laid out for you like your momma used to lay out your clothes before school in the morning. All you have to do is follow along with each workout in the order we have in the training guide and you'll see noticeable results in the mirror day after 28 days.
For the next 4-weeks — I'll give you 4 follow along workouts per week. Each workout lasts 30-minutes and is going to have its own "special twist".
I've filmed every workout so it's like I'm right there in your living room, basement, garage, or wherever else you want to power through these workouts. All you have to do is click "play"… follow along… and give it your all. You do that and you'll look like a fitness model and feel like an athlete in less than a month. Just grab a pair of dumbbells and you'll battle back against age-related muscle loss, reclaim your masculinity and get in head-turning shape.
What's included:
Dumbbell

Beastmode Follow Along Workout Videos

Dumbbell Beastmode Demo Workout Videos

Beastmode Main Training Guide

Dumbbell Beastmode 4 Week Success Calendar

Beastmode Ab and Core Finisher Workout Video
Warm Up and Post Stretch Routines
Mobility and Range of Motion Routines
KBSA Private Facebook Support Community
Monthly LIVE Coaching Call with Coach Funk & Angela
Access on Protected Website
APP Access - Funk Fitness Shred APP and Apple TV
Guaranteed safe and secure checkout via
Likes:
Time crunch friendly
Home Workout
"This is perfect for any individual looking to workout on a time crunch at home"
Recovery Weel
"This is absolutely perfect for a recovery week"
New exercises
"My trainer showed me this and I have been feeling better ever since"
Likes:
Helps with imbalances
Helps imbalances
"My trainer uses this on recovery weeks from weightlifting and it works wonders"
Improvements:
Explain the program format more… I didn't see the separate abs tab at first
Great program
This is a good program for beginners and up! I connect with the motivation, I love the passion of the instructor she cracks me up!!! And keeps me going! She's saying what I'm thinking.
"Get your life together!!!!"